We take a deep dive into the Innokin MVP5, is it the last mod you'll ever need? Read or watch to find out!
What's crackin' forum! Today we have a mod that I'm extremely excited about, and has to be one of MY most anticipated devices of the year. Innokin has been in the vape game for a long time, and they really made a name for themselves back in 2013/2014 with the famous iTaste MVP that took the industry by storm. This was one of my first devices, and if you asked anybody that's been vaping for a long time, they've probably either owned one of have fond memories of one. You'd get amazing battery life, it was comfortable and stylish, and even had a USB port so you could charge your phone in a pinch! These mods were the cats pyjamas, but after 5 years how have much have the changed and improved? Well Innokin is innovative, so let's dive into this crazy mod that does it all. 
Specs
Before we go into the crazy features let's quickly go over the specs of this device.
Dimensions: 9.2cm x  5.3cm x 2.7cm
Battery: 5200mAh
Charging current: 5V 2A
Wattage: 6-120W
This device actually features USB-C charging, and also… USB-A charging output! That's right, the power brick mod is back!! Now, other than that already awesome feature, let's go over the rest of the cool features on this device!
Features
When it comes to features, boy howdy does this thing have a lot. Let's start at the top, literally! On top of this beast lies the biggest flashlight I've ever seen built into a vape. Before the brightest I've ever seen on a vape was the Asmodus Lustro, but because the MVP5 has a proper flashlight housing it completely blows the Lustro out of the park! One thing I really like about how they did this flashlight is how they handled the adjustments on the screen itself, as soon as you click the flashlight button it brings up the menu for it allowing you to adjust the power and giving you options like strobe and SOS, all with a timer to let you know how much longer you're able to run it for! Of course if it has a timer for a freaking flashlight, you best believe this bad boy keeps the time for you as well! I can't say I've ever seen a flashlight with a countdown on it, and while I don't think that big flashlight is going to take inspiration from a vape, I sure hope they do.
To slide, or Zlide, in another cool feature they decided to include was actually support for their Ajax and Z-series tanks! These settings are designed to get optimal performance for both sub-ohm and mouth-to-lung tanks, and while they were specifically put in for their own products they still work well with other brands. But heck if you put on that Zlide tank you're gonna have battery life for days with this massive 5200mAh battery!
You can also change the colour of the circle around the wattage, personally I don't care about that but it's one more cool feature to customize your device!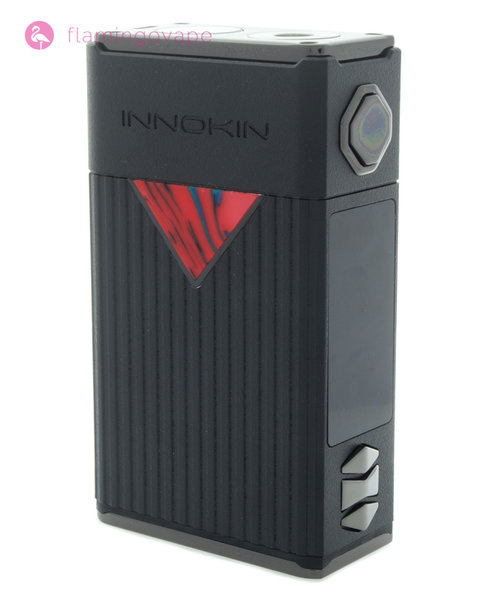 Innokin really went above and beyond and included a wide variety of sensors that you'd never expect to see in a vape; while they may not be super useful for everyone they're unreal if you ever go camping, hiking, or do anything outdoorsy! When you go the sensor menu, you're greeted to an accurate compass, thermometer, altimeter, and a barometer! I generally find a compass to be useful, whether I'm driving or walking in an area I don't know, it's always useful to have a compass on hand. The thermometer is a super cool feature to me, even though I don't find it to be extremely accurate it's a nice way to get a general reading without taking out your phone. I'm from Winnipeg so I don't think it can even read this low of temperatures, and honestly this altitude meter means literally nothing to me; it's super flat prairies so that doesn't really change, I think it would be more interesting if I'm doing a drive through Ontario to see just how much the topography changes. But for Winnipeg it does have another use which I'll talk about in a moment!
Now the barometer is what confused me more than anything as I had no clue what they even were, but after doing some research turns out it's a lot cooler than I thought. You may or may not have known that barometers can be used to do a fairly accurate weather report which has been done since the 19th century! When you combine this with the altimeter (and learn how to understand all of it) you'll be able to predict short-term weather forecasts no matter where you might be! Even though the altimeter on its own might not be useful for Winnipeggers, the combination of it with the barometer is super useful for this unpredictable city. 
Design
The design of the MVP is both tough and modern. It feels sturdy in your hands, and if it's anything like my old MVP2 then it can definitely take a beating! 3/4 of the device has a nice lined texture which provides added grip so it won't slip from your hands, but still keeps a very elegant look with the stylish resin plates to add a unique flare to every unit. It has sturdy rubber stoppers for every port on the device to prevent dust and debris, and I can imagine it would do very well for keeping water out as these are thicker than most IP67 rated devices I've seen! I'm personally not a huge fan of the chrome buttons used on the device as I think a satin finish would've been nicer, but those buttons are perfectly sized for easy use and navigation. But hey, at least they don't have any rattle!
Speaking on navigation, they really made this device easy to use by adding the third button to help access menus so much easier. 
When it comes to the design of the menu screens they definitely aren't the prettiest thing in the world, but they still deliver the information clearly and effectively which is all that truly matters. With a device that has this many features, I didn't think I'd easily be able to figure it all out after using the device after just a minute! It's a colour and fairly high resolution display, so there's not much more I can ask for. 
The bottom plates on the device have the flashlight on/off switch and powerbank outputs, while the top plate has the 510, flashlight, and… Lanyard hole? Oh right, this is a super practical device so they actually included the most practical lanyard you'll ever see! Now while I generally wouldn't use a wrist strap it's one of those things you'll like if you're hiking, but I'm still going to rock this one. 
Why? Because if you take the the end off it reveals the hidden USB-C cable! 
This is one of those products that make me want to buy it just for all the cool things included into it. 
Final Thoughts
Now if you're the kind of person who just wants one mod that can do everything you want and more, want innovation, and maybe forgets to charge things, then this is the device for you. I still can't believe how they packed in this many quality features into the device, they really wanted to make sure function was more important than form and yet they still made it stylish! 
Truly the only con I can really say about this device is the fact that the battery is built in which I'm usually not a fan of, BUT! It's USB-C rechargeable with 2A charging so it will charge this absolutely massive 5200mAh battery (which is almost as big as my freaking MacBook's) in no time! It's a solid device that's great for anybody wanting to upgrade, start out, or need a perfect mod for daily or travel use.
The Innokin MVP5 is the cat's pyjamas, pick yours up for only $94.99 by clicking here!