Read/Watch to watch our review on the SMOK Mico kit! A tiny pod system that's perfect for everyday life.
Has this ever happened to you? 
Do you lose your vape all the time? Are you clumsy and drop things? Don't you wish there was a way to just tie it to yourself and never have to worry about buying another pod system?
Well if you related to everything I just said, you're in the exact same situation as I am. Thankfully, SMOK has been copying the ideas of other successful pod systems and delivering them at a much cheaper price! Introducing the MiPOD-- I mean Mico.
The SMOK Mico has been the pod system I've been using personally for the last month or so and boy howdy has it been a treat. This tiny pod system hits hard, looks great, and just feels great to use with its Novo style mouthpiece. I wasn't a huge fan of the MiPod's mouthpiece to be honest with you, so it's a big plus to me! It packs a whoppin' 700mAh battery in this tiny device, so battery life definitely won't be an issue, I usually only charge this every other day which has been really convenient. What's my favourite part? You get a lanyard. I can't tell you how many times a day I say "where's my vape?!" but thanks to this strap that's one less thing to worry about, plus you're allowed to use the hashtag #LanyardGang to fit in with the popular people.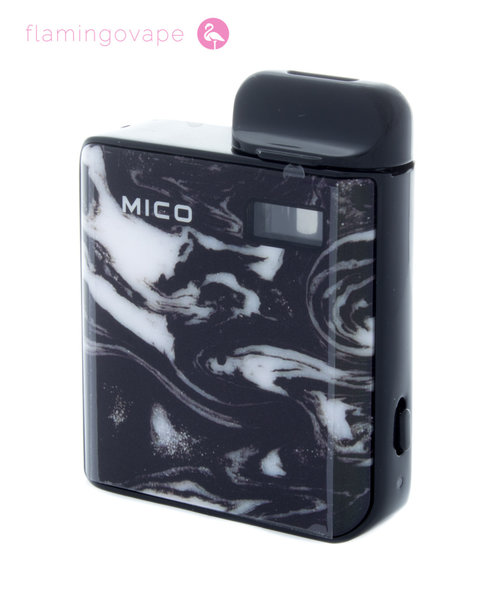 Now taking a quick look around the device you'll actually notice this little switch, which is for turning the device on and off. I've said it once and I'll say it again, all pod systems need an off/off switch! Right below it is an indicator light to show you when it's firing, and also gives you an idea of what amount of battery you have left. It has the micro-USB charging port at the bottom of the device, it gives it a much cleaner look and I definitely prefer having it this way on pod systems as I usually let them charge while laying down anyway. The only slight con to the sweet resin design of this device is that it's not actually resin, however, if you loved the design you saw online you at least know that you'll be getting exactly what you wanted! It's really hard to tell that it's not real until you put your face right into it, but all the designs they chose look awesome. As you can also see, it has a small window for juice so that way you can always take a quick peek on how much juice you have left!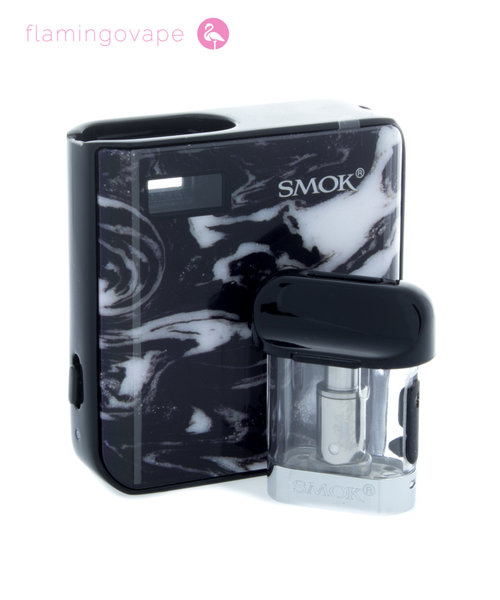 Now I'm sure you've been waiting anxiously to review the most important part up close… the lanyard. IT'S PERFECT! You get a nice adjustment dongle and by having this shoelace-esque look it doesn't irritate your neck and is super comfortable to wear from when you wake up 'til you fall asleep. I've seen some of the guys here twirling them around by the lanyard, so they're definitely sturdy! 
The flavour off the Mico is great, especially when you pop in the 0.8ohm mesh coil (which is awesome with freebase nicotine!), but I'm not that hardcore so I use the 1.0ohm which still gives great flavour! I will say, if you have weak suction like Rip Trippers, or don't like a looser draw, this may not be the device for you. Out of the box I didn't find it to be super sensitive, but even with light drag I can get it to fire up. I love the draw myself, they made it on the looser side to properly accommodate the amount of vapor you're getting from this pod.
So what are my final thoughts on this pod system?
Let's start with the pros:
Great battery life

Comfortable mouth piece

on/off switch and battery indicator

Awesome lanyard

Compact and stylish design
Cons:
Not real resin

Some people may not like the glossy finish

Loose draw
I think this device is great and I'm definitely going to continue using it for a long time, mainly because there's no way I can lose this thing!
If you want to pick a Mico up for yourself, you can click HERE to pick it up on our website now with WORLD WIDE SHIPPING!
Instagram: @flamingovape
Facebook: Flamingo Vape Shop
Snapchat: flamingo_vape