Learn about what Salt Nicotine is and find out how to choose the right level for you! For experienced and new vapers!
With the growing popularity of nicotine salts, there's some things you should know before you buy it!
Salt Nicotine is a synthetic nicotine that acts more like a cigarette. What do we mean by that? With traditional nicotine used in vapes and e-cigarettes, called "freebase nicotine", some people don't notice that nearly instant nicotine delivery like how a cigarette acts, and may take longer to fulfill cravings. With salt nicotine, it enters your bloodstream much faster to replicate a cigarette, and usually come in much higher nicotine levels to quickly stop cravings.
Most salt nicotine juices are designed for pod systems like the Suorin Air and Suorin iShare, as they push out low power, around 8w-10w, and give a mouth to lung draw, giving you the most similar experience to a traditional cigarette!
Now I'm sure you're wondering, how do I choose the right nicotine level for myself?
The first step is making sure you have the right device to run nicotine salt juices. Pod system vapes are the best choice due to their low power output and great portability. If you do want to use something different, make sure you are running it between 8w-15w MAX! When juices are getting as high as 50MG, nicotine overdose is a big risk you are running if you use a sub-ohm device, we highly discourage the use of nicotine salt juices in more powerful devices.
Now that you have the right setup, here's a small guideline for choosing the best nicotine level for you.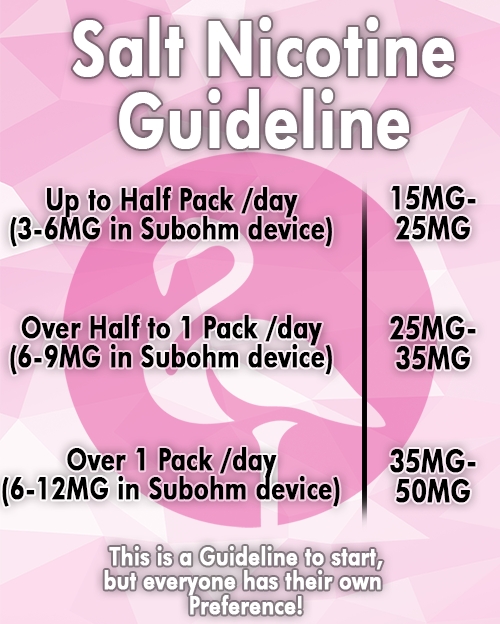 Not a smoker? Don't use nicotine! We have tons of options available for nicotine free juices so you can enjoy some amazing flavours!
Now that you know about nicotine salts, check out some of our amazing flavours from BB Vapes, Viscount, Lix, and more!
Make sure to follow our social media for the fastest updates on our latest blogs posts, videos, giveaways, products and more!
Facebook: Flamingo Vape Shop
Instagram: @flamingovape
Snapchat: flamingo_vape
YouTube: Flamingo Vape Shop